Ora sei quiauguri di natale
auguri di natale
---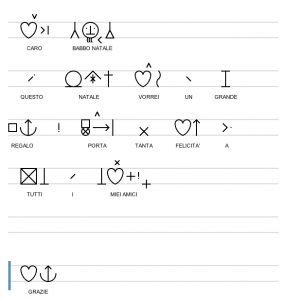 Tanti Auguri di un Felice Natale a tutti e buon inizio di 2012!
Abbiamo deciso di farvi gli auguri in BLISS, pubblicando un po' di documenti che abbiamo ricevuto (Grazie Marcello!) e che abbiamo fatto noi. Sono biglietti pronti da stampare o da modificare.
La versione PDF si può stampare direttamente.
La versione BLS si può aprire con misterBLISS e modificare.
Inoltre abbiamo inserito una bella lettera per Babbo Natale!
Li trovate tutti nella tabella qui sotto in diverse lingue:
(IT) italiano
(EN) inglese
(FR) francese
Grazie a tutto il gruppo di amici di misterBLISS e di intelliWARE: Alessandro, Beatrice, Francesco, Marcello, Giulia, Paolo, Filippo, Giulio, Filippo, Stefano, Alessandro, Marisa e Sofia.
Giacomo e Denis
---
Merry Christmas and Happy New Year to all!
We wish you a Merry Christmas publishing new BLISS documents.Download print and edit some new greeting card written in BLISS Symbolics.
Print directly the PDF english version or edit the BLS version with misterBLISS.
(EN) english
(IT) italian
(FR) french